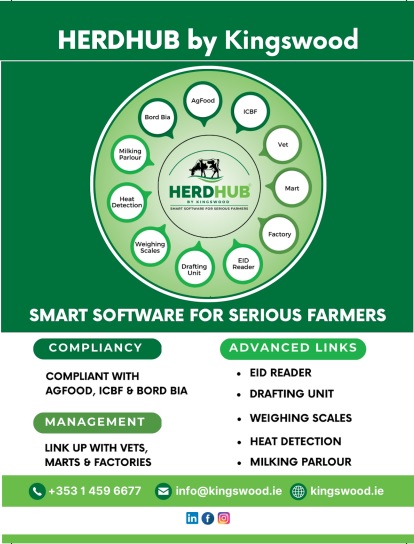 Dairy Version – App Features
Auto Generate Next Calf Number.

Scan calf details with either EID Reader or phone camera.

Generate Calf Pedigree Name from your Herd Prefix.

Instant breeding summary at calving time

Breeding alerts e.g., get notified when calving date differs from expected.

Calf Registration with AIM, APHIS and ScotEID.
Sire Advice from ICBF.

Service Stats worked out immediately.

PD/Scanning Results from ICBF.

EBI figures from ICBF.

Selective Dry Cow therapy incorporated in Dry Off report.
Milk Records – reports and individual cow record cards.
Breeding Summary when recording Services or Scanning events.
Links with Milking Parlours, Heat Detection facilities and Drafting units.
Target Weight Alerts/Report.
Dashboard Herd summary.
Beef Version – App Features
Links with Marts and Factories – speed up entering your purchase/sales information.
Quality Assurance status from Mart Link files (ROI) and APHIS (NI).

Sales Planner showing animal age, stay on farm and withdrawal status.

Apply default vet treatment to purchased animals automatically.
New Beef Grid in K Mobile (large screen app) showing beef info with drill down to individual animal.
Purchase Sales Analysis Report (including Gross Margin).

Livestock Inventory Report (End of year livestock figures for your accountant).

Nutrient Production Report – both N & P quantities calculated.
"Such great information for me to look back on and see which cows were easy calving and the gestation length of each bull."
– Kevin – Rosegarland Farm
Kingswood Computing Ltd, Derryvale, Roscrea, Co. Tipperary, E53 EV90, Ireland