Kingswood Mobile's powerful dairy and beef grids take advantage of your large screen size to allow you view your animal records at a glance. 
Animals can be filtered by various criteria and reports generated, printed off and emailed via PDF files.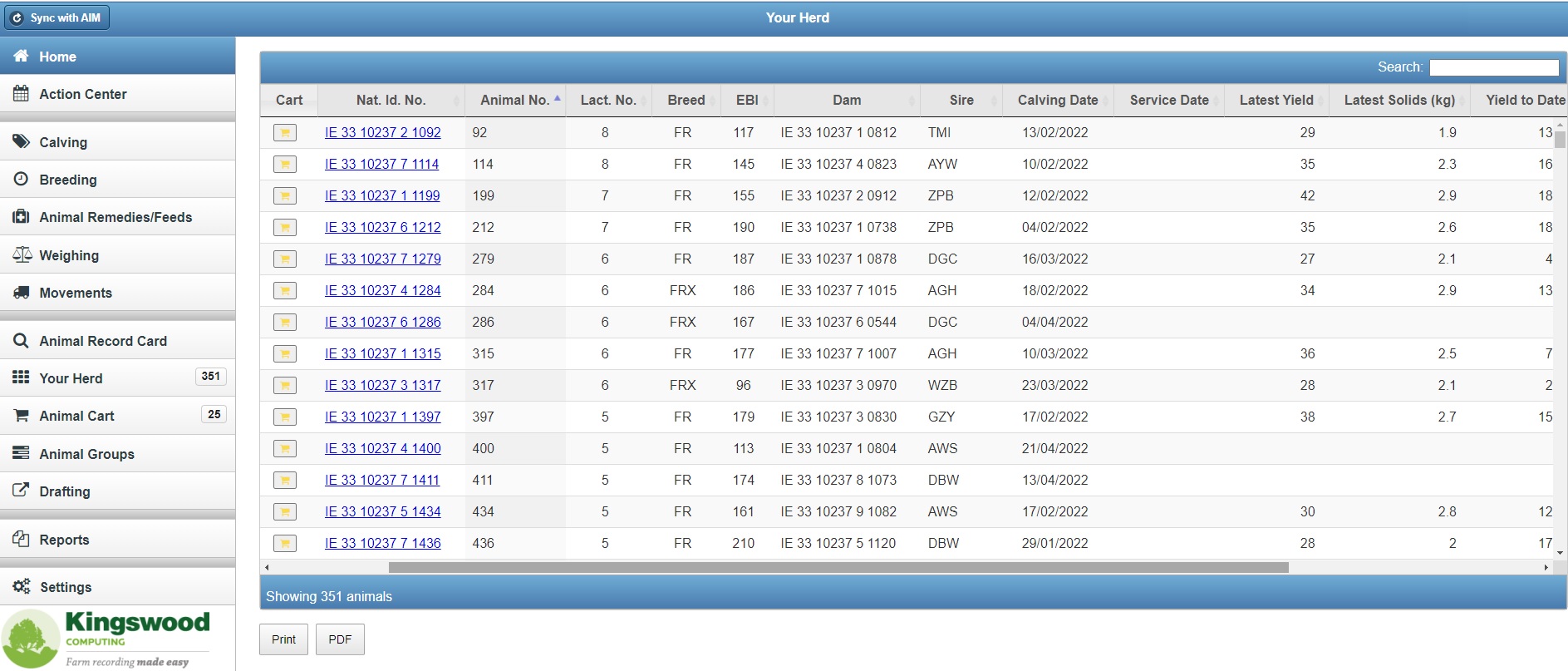 Just some of Kingswood Mobile's benefits:
Kingswood Mobile is a Cloud-based App, primarily for use on tablets, PCs and laptops.
Kingswood Mobile allows you to:
Record events including :
Calf Registrations, Animal Remedies, Breeding Events and Weighings.
Look up animal record details including :
Breeding Status, Milk History, Pedigrees and Withdrawal Status.
Review herd reports including :
Breeding Due To Lists, Weighing Reports and Sales Planners.
Sync with AIM and ICBF:
Sort out Animal Movements with AIM and sync Animal Events with ICBF.
Link up with your local Vet, Mart and Factory.
Update medicine register and animal price/weight.
Use any number of phones, tablets or PC's.
Unbeatable value – from €100/year.
Purchase a year's access to Kingswood Mobile. 
View a video on Kingswood Mobile.
Register calves with full breeding details.
Check cows calving, fertility & milk histories quickly and easily.
Use templates to enter Animal Remedies at speed.
Use VetLink to get medicine purchases from your vet.
Comprehensive Bord Bia reports – fully compliant
Record heats, services, PDs and weighings.
Generate Action Lists for calvings, services & drying off.
Link with ICBF for breeding and pedigree information.
Daily Live Weight Gain Report
Request Compliance Certs from Dept.
Beef Sales Planner filters by age, time on farm & withdrawal date.
Cart and filter functions to allow grouping of animals..
            Free day trial of Kingswood Mobile
Kingswood Computing Ltd, Derryvale, Roscrea, Co. Tipperary, E53 EV90, Ireland